Home
Digital Household Thermometer
1st
Digital Household Thermometer
1st
Digital Household Thermometer
1st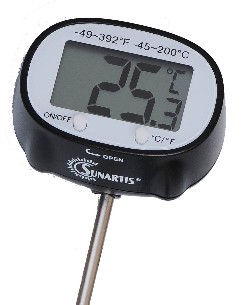 From € 19,95, now € 12,50 !
This digital household thermometer from Sunartis is precise and easy to use. With the included plastic sheath and it's swivel head with easy to read big figures it's a practical thermometer to use with cooking and baking.
Specifications:
• Resolution: 0,1°C
• Measurement range: Temp.: -45°C - 200°C
• Easy to use two key operation
• The plastic sheath has a temperature table for wellness of various sorts of meat and fish.
• Display selectable in °C or °F
Article code: C5005